Suitable for a range of purposes including trenching, landscaping, utility and excavation projects, Carnegie Rental's range of mini excavators for hire will help you get the job done quickly and efficiently. Offering an extensive range, our mini excavators are safe and easy to use, with an assortment of attachments such as post hole diggers and jack hammers. Browse our range today to find the model that best fits your project!
3.5 tonne - fully enclosed excavator
Heavy duty 3.5 tonne diesel powered excavator, perfect for all your large scale trenching, landscaping, and excavation needs. Using breakout force to ensure stability at a deep working depth, and featuring 360 degrees slew, rubber tracks, backfill blade. Common applications including trenching for sewerage, electricity and storm water, ground levelling and safe movement of earthing and building blocks. Safe and easy to use for any level of operator. 
SAFETY EQUIPMENT LEGENDS
TRANSPORT NEEDED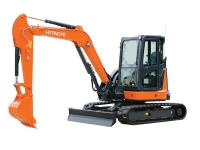 3.5 tonne - fully enclosed excavator
Call our in store expert to book this item
Carnegie - 03 9571 9488
Oakleigh - 03 8546 5744