Rotary hoe (tiller)
A light-duty multipurpose cultivator/ tiller, used to break up lightly compacted soil, loosen up small areas for planting, help control weeds, remove grass and mix in organic matter. This machine is best for use in sandy soil, to help improve your garden bed or lawn, providing you a blank canvas from which to work with. 
For transporation a large vehicle (i.e ute, van or SUV) or towable trailer is recommended. 
Motor
5hp petrol
 
Cultivates
470mm width x 150mm depth
Weight
70kg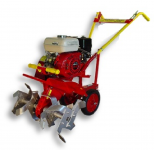 Rotary hoe (tiller)
Call our in store expert to book this item
Carnegie - 03 9571 9488
Oakleigh - 03 8546 5744
Contact Us
Browse our building equipment, tools, machinery at our online tool hire shop to find the best products for your needs. If you have any questions or would like more information on our products and services, don't hesitate to give us a call. You can come and see us at two convenient locations in Melbourne!
Trading Hours
Mon to Fri: 7am - 5pm
Sat: 7:30am - 1pm
Sun: Closed
If you hire on Saturday you get Sunday Free!
Oakleigh
21-25 Coora Road,
Oakleigh South, VIC 3167
Carnegie
1076 Dandenong Road,
Carnegie, VIC 3163
Customer Reviews
Google My Business
Building equipment hire service
Date published: 16/08/2018

We service all suburbs including:
Bentleigh, Brighton, Caulfield, Chadstone, Malvern East, Toorak, and many more!