Ideal for removing mortar, paint, grout, thin adhesives and other soft compounds as well as minor levelling of large concrete floors, Smart Hire's concrete grinders  come in a variety of sizes to cater to a range of needs.
Whether you're after a hand held concrete vibrator or a larger one for greater speed and efficiency, you're sure to find what you need here within our extensive range. We also have a concrete mower for hire, which is excellent for both dry and wet operation in well-ventilated or outdoor areas.
Concrete Grinder Sit Up and Grind
Designed for small hand grinding jobs, this concrete grinder comes with a filtered vacuum for dust control and a stool on wheels, allowing operator to sit comfortably while using machine.  Ideal for paint, mortar and adhesives removal from concrete surfaces.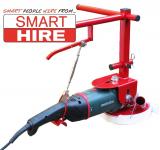 Concrete Grinder Sit Up and Grind
Call our in store expert to book this item
Carnegie - 03 9571 9488
Oakleigh - 03 8546 5744
Contact Us
Browse our building equipment, tools, machinery at our online tool hire shop to find the best products for your needs. If you have any questions or would like more information on our products and services, don't hesitate to give us a call. You can come and see us at two convenient locations in Melbourne!
Trading Hours
Mon to Fri: 7am - 5pm
Sat: 7:30am - 1pm
Sun: Closed
If you hire on Saturday you get Sunday Free!
Oakleigh
21-25 Coora Road,
Oakleigh South, VIC 3167
Carnegie
1076 Dandenong Road,
Carnegie, VIC 3163
Customer Reviews
Google My Business
Building equipment hire service
Date published: 16/08/2018

We service all suburbs including:
Bentleigh, Brighton, Caulfield, Chadstone, Malvern East, Toorak, and many more!