Mini loaders, also known as dingos, are ideal to use on narrow or limited-access worksites. Use them for moving and levelling soil, sand, mulch, gravel and rubble as well as for loading bins, trailers and trucks.
If you're looking for dingo hire in Melbourne that's value for money, browse extensive range at Carnegie Rental. We offer a wide variety of machines that are heavy duty, easy to manoeuvre and come equipped with industry-leading safety features. Our mini loaders for hire come with a variety of attachments as well, including post hole diggers for digging holes for fences, retaining walls and more. Browse our selection and book the best machinery for your needs.
Mini Loader c/w Trencher
Heavy duty four-wheel drive mini loader, ideal for moving and levelling soil, mulch, sand and loading trucks, trailers and bins. Including trencher attachment perfect for narrow access applications such as pipe and irrigation hose laying.
| | |
| --- | --- |
| Motor | 20hp   15kW diesel or petrol |
| Operating weight | 850-950kg |
| Trencher depth | Max 1m |
| Width | 1050mm |
| Length | 2000mm |
| Height | 1200mm |
SAFETY EQUIPMENT LEGENDS
TRANSPORT NEEDED
FAQ
1. How much does it cost to rent a mini loader/dingo ?:
The cost of rental/hire within Australia of most mini loader/dingo can range between $220- $350 over a 24 hour hire period, depending on the machine quality, size and rental service.
2. How much does it cost to have someone operate a mini loader/ dingo ?:
Generally earthmoving specialist will charge at minimum $600, and jobs can increase past to $10,000 dollars depending on the job size and difficulty.
3. Do I need a license for a mini loader/dingo ?:
According to Worksafe (23/10/18), a certificate is no longer required to operate an earth moving or particular crane (EPC) occupational class of machinery; meaning that anyone from the public is welcome to come and use our entire range of excavators, mini loaders, trenchers and bobcats, without needing licensing.
4. What does a mini loader/dingo do ?:
A mini loader is a self-contained unit (similar to a skid steer) that requires someone to stand on the rear of the machine in order to use it. It is primarily used for earth moving and leveling landscapes and is preferred in tight access/ narrow areas that cannot accommodate larger machinery such as excavators and
bobcat
.
5. How to use a mini loader/ dingo :
(Please refer to the linked video)
An mini loader uses a simple system of joysticks and handles to both drive and operates its tracks, arms, and attachments. The skills required to operate one can easily be learned within 10 minutes use.
FREE VIDEO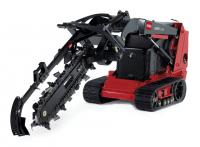 Mini Loader c/w Trencher
Call our in store expert to book this item
Carnegie - 03 9571 9488
Oakleigh - 03 8546 5744
Contact Us
Browse our building equipment, tools, machinery at our online tool hire shop to find the best products for your needs. If you have any questions or would like more information on our products and services, don't hesitate to give us a call. You can come and see us at two convenient locations in Melbourne!
Trading Hours
Mon to Fri: 7am - 5pm
Sat: 7:30am - 1pm
Sun: Closed
If you hire on Saturday you get Sunday Free!
Oakleigh
21-25 Coora Road,
Oakleigh South, VIC 3167
Carnegie
1076 Dandenong Road,
Carnegie, VIC 3163
Customer Reviews
Google My Business
Building equipment hire service
Date published: 16/08/2018

We service all suburbs including:
Bentleigh, Brighton, Caulfield, Chadstone, Malvern East, Toorak, and many more!