Heater Blower Small (Gas Extra)
High powered space heater, ideal for indoor and outdoor use. Designed to provide warmth to large areas with speed. This fan-forced gas heater is ideal for drying non-flammable coatings and providing heat on building sites, factories and at social events. Available in a small and large model. Safety note: Large and well ventilated areas required for indoor use.
Fuel
LP gas
 
Motor
Electric 240v.
Running time
Up to 4hrs.
 
Heat output
250,000btu, 260MJ
 
 
 
 
 
 
Note
A well ventilated area is required for indoor use
 
Gas available for hire
 
Do not operate within half a meter of flammable objects, ceiling, tarpaulin and acrylic materials or roofing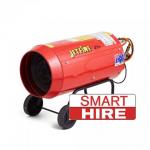 Heater Blower Small (Gas Extra)
Call our in store expert to book this item
Carnegie - 03 9571 9488
Oakleigh - 03 8546 5744
Contact Us
Browse our building equipment, tools, machinery at our online tool hire shop to find the best products for your needs. If you have any questions or would like more information on our products and services, don't hesitate to give us a call. You can come and see us at two convenient locations in Melbourne!
Trading Hours
Mon to Fri: 7am - 5pm
Sat: 7:30am - 1pm
Sun: Closed
If you hire on Saturday you get Sunday Free!
Oakleigh
21-25 Coora Road,
Oakleigh South, VIC 3167
Carnegie
1076 Dandenong Road,
Carnegie, VIC 3163
Customer Reviews
Google My Business
Building equipment hire service
Date published: 16/08/2018

We service all suburbs including:
Bentleigh, Brighton, Caulfield, Chadstone, Malvern East, Toorak, and many more!