Mulcher (75mm) Chipper
This 75mm chipper is ideal for breaking down tree branches and wood into mulch, tanbark and compost chips for recycling, landscaping and rubbish removal purposes. It is a small, compact machine with a feeding capacity of up to 75mm (2.95inch) branches and a small petrol motor, all trailer mounted for easy movement.
PDF Guides & Specifications:
SAFETY EQUIPMENT LEGENDS
TRANSPORT NEEDED
FAQ
1. How much does it cost to rent a mulcher/wood chipper ?:
The cost of rental/hire within Australia of most mulchers/ chippers range between $140- $400 over a 24 hour hire period, depending on the machine quality, size and rental service.
2.How much does it cost to have a tree removed ?:
Ranging from every small to large trees, it can cost between $140- $1400 dollars per tree to have them professionally removed (averaging around $500); this being dependant of the tree height, diameter, condition, wood type and location. The low cost of rental makes it not only cost effective, but also convenient to rent if one or multiple trees have to be removed.
3. What does a mulcher/ wood chipper do ?:
A mulcher is a lardscaping/ horticulturalist machine that uses large rotating blades in order to disintergrate tree bodies into small wood chips; making them useful for either rubbish removal, outdoor flooring and soil fertilization.
4. How long does it take to mulch a tree ?:
Depending on the size it can take anywhere between 20 min - 3 hours to completely mulch a standard tree, this has more to do with the preparation stages of cutting branches and checking for damaging objects (e.g nails/ rope).
5. What do I mulcher/ chip a tree ?:
Begin by inspecting the wood for nails, rope or any potentially damaging objects, secondly start the mulching machine and fully engage the blades, thirdly directionalise the expulsion shaft to the desired location and begin slowly feeding tree branches (appropriate to the machine) into mulcher blades. Be sure to allow the process to feed naturally.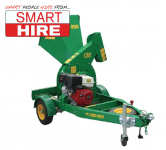 Mulcher (75mm) Chipper
Call our in store expert to book this item
Carnegie - 03 9571 9488
Oakleigh - 03 8546 5744
Contact Us
Browse our building equipment, tools, machinery at our online tool hire shop to find the best products for your needs. If you have any questions or would like more information on our products and services, don't hesitate to give us a call. You can come and see us at two convenient locations in Melbourne!
Trading Hours
Mon to Fri: 7am - 5pm
Sat: 7:30am - 1pm
Sun: Closed
If you hire on Saturday you get Sunday Free!
Oakleigh
21-25 Coora Road,
Oakleigh South, VIC 3167
Carnegie
1076 Dandenong Road,
Carnegie, VIC 3163
Customer Reviews
Google My Business
Building equipment hire service
Date published: 16/08/2018

We service all suburbs including:
Bentleigh, Brighton, Caulfield, Chadstone, Malvern East, Toorak, and many more!